As you may all know that every Tuesday at noon the website crashes… There is just so many of you coming to the website at that same exact time that it causes our website to over heat and blow a gasket. We have been totally aware of the problem and the frustration this can cause and have been in the process of fixing the problems for some time now. We thought we had the situation in order but it looks like we are going to have to make some more upgrades. We appreciate everybody's patience with the process and promise everything should be on the up and up shortly.
Tactics to create a climate of fear are nothing new… check out this LBJ Presidential ad from 1964. LBJ escalated U.S. military presence in Vietnam as soon as he took office. The irony is that as we worry about outside threats to our kids, we are creating a culture where it is fine to bomb kids from other countries like Vietnam or Iraq. The Iraqi civilian body count due to U.S. forces is between 56 and 62 thousand. See more at www.iraqbodycount.org/database. No wonder there isn't a lot of popular support in Iraq for the American versions of freedom and democracy. I feel just as bad for our troops who are being killed. Now we are mired in a civil war that is terrible for us and them. Try to keep in perspective that for every media image of a disabled U.S. veteran of the war in Iraq, there are 20 Iraqis who are in a similar or worse situation.
-Shepard
Check out this print that Shepard made as his reaction to the thought of being a part of a society that cultivates the justification of killing foreign innocent children, and people for that matter, to protect "our" idea of freedom and democracy. The print will be sold in 2 color ways with both color ways having editions of 300. These prints will be for sale on Tuesday, March 27th at noon. In addition, a portion of the profits from the sales of this print will be donated to the following organizations.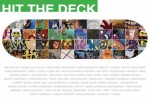 Opening Reception
Saturday, March 31, 2007
8:00pm – 11:00pm
Exhibition Dates
March 31, 2007 – April 21, 2007
Synthesis presents Hit The Deck, an original art showcase of artists from around the world using skateboard decks as the medium. Hit The Deck will exhibit at Subliminal Projects in Los Angeles, on March 31st until April
21st. Alan Weibel will curate Hit The Deck for Synthesis, bringing together clothing designers, graphic designers, graffiti writers and established fine artists for an opportunity to show and sell their original skateboard deck art to raise money for a world renowned AIDS, malaria and teburculosis treatment charity, the Global Fund.
Synthesis Magazine – www.synthesis.net
Draven Shoes – www.draven.com
Scion – www.scion.com
Dewars Blended Scotch Whisky – www.dewars.com
Swindle Magazine – www.swindlemagazine.com
Obey Giant Art – www.obeygiant.com
The Global Fund – www.theglobalfund.org
Click for more
OBEY is working with GlobalGrassroots.org through the HOPE Campaign to help empower individuals and bring awareness to the current crisis in Darfur. Since 2003 in Darfur, Sudan, an Arab government and their Janjaweed militias have been killing raping and displacing its black African citizens… thousands have been killed and millions have been displaced and are dependent on food aid. Shepard has designed a poster that will be released in the near future in which 100% of the proceeds will be donated to the HOPE Campaign to help stop this injustice.
Global Grassroots is a non-profit organization, founded in 2004, that offers training and seed funding to empower and support relief of poor, distressed and underprivileged women worldwide and help launch the sustainable social ideas of genocide survivors and refugees. The HOPE Campaign empowers individuals to take action on Darfur through music. For more information on further involvement and other projects aiding the crisis in Darfur, please visit www.globalgrassroots.org.
Swindle issue 10! We actually made it to double digits. More importantly, this issue kicks ass, my bi-ass aside. Our cover subject
Henry Rollins was the singer for Black Flag, one of my favorite hardcore bands. He's done a lot over the years… started has his own band, the Rollins Band, has his own radio and television shows, created his own publishing imprint and tours as a speaker and
lecturer with deep political knowledge. Rollins basically embodies all of the do it yourself creative and ethical principals that Swindle champions.
Issue 10 also features the SIRENS OF THE SURREAL, artists Camille Rose Garcia, Seonna Hong, Liz McGrath, and Adele Mildred who share their unique art and feminine perspective.
Remember when skateboarders wore pastel tee shirts and rocked Flock of Seagulls hair don'ts… I do because I was one of them. Well, we got together with the original members and some peripheral supporters of Powell Peralta's BONES BRIGADE to talk about their influence on skateboarding in the 80's and what they've been up to since then. You have all heard of Tony Hawk, but the entire BONES crew's contribution to skateboarding, art, music, video games, signature shoes, etc… demonstrates their enduring influence.
Additionally, we've got designer Philippe Starck , art, fashion, music , and pop novelty galore… if you aren't enticed yet you should move to Siberia, but write a story about your experience and submit it to Swindle. For more information visit swindlemagazine.com
-Shepard
Due to the recent rise in number of OBEY prints found on EBAY we are reducing the amount of prints per household/customer to 1 from here on out. If there is one thing that bothers us worse than lazy complaint emails is the EBAY market. We have tried our best to hold on to the 2 limit policy for our true collectors but it seems like a portion of the "collectors" buying our prints are EBAYing everything they purchase. Shepard and the rest of us are overwhelmed by the stories we hear about how much people are paying for prints on EBAY the same day as they are released on our site. With this new limit we hope to increase the chance of everyone getting an equal shot at a print on Tuesdays, despite the increase in overhead and work we ultimately will take on. Nonetheless, we hope this helps some of our true fans… But be forewarned that if we find out who these compulsive EBAYers are we will have no reservations in banning them from future OBEY purchases. Thanks for all those that have stuck it out these last couple of months!
Detroit's MC5 along with Iggy and the Stooges are the godfathers of Punk. The MC5 were also vocally political and involved in The White Panther Party, the white branch of the Black Panther Party. I'm a big fan of the MC5 and was recently honored to be asked by their bassist Michael Davis to do the logo for "Music Is Revolution", a foundation to promote music education in public schools. Read more about it below. I also have a limited edition Obey/MC5 clothing collaboration coming out. It includes a tee-shirt and military style jacket. Look for it soon. And if you don't have any MC5 music… go get some.
-Shepard
Okay, Yesterday was pretty crazy. It was my birthday, and more significantly it was the day Chuck D came to sign his print at Studio Number One. Public Enemy is my favorite hip hop group of all time and Chuck D is not only the founder and core of the group, but one of the most important figures in music, politics, and culture since punk. I was into punk and hardcore all through middle school and high school, but by 88 I was feeling they had run their course. I liked the Beastie Boys (who had coincidentally originally been a hardcore band) and RUN DMC, but not until Public Enemy did I feel Hip Hop was the new Punk. I love Public Enemy's first record: "Yo, Bum Rush The Show", but it was only the warm up for the sonic and lyrical firestorm of "It Takes a Nation of Millions to Hold Us Back" and "Fear of a Black Planet". These records are must haves. Don't make weak excuses… get them if you don't have them IMMEDIATELY. My design studio (Studio Number One) was named after the song Public Enemy Number One from which the group's name was derived. Obviously, I endorse P.E. and Chuck to the fullest and am incredibly honored to have been able to do this collaboration. The image was originally created for the ICONS issue of Swindle Magazine and the illustration was a collaboration between myself and my very talented intern Ernesto Yerena. Chuck liked it and asked if a print could be made (officially this time as opposed to my unauthorized 2002 Chuck 'n' Flav prints). The Print is signed by Ernesto, me, and Chuck D. Chuck is getting a cut of the poster sale which is why the print is $50 instead of $35. The print edition is out of 400.
More than 240 people have signed a petition asking for the mural by American urban artist Shepard Fairey to remain outside the Trackside clothing and tattoo parlour in Heaton, Newcastle.
The Alliance For Childrens Rights
Online Auction & Exhibit to Benefit The Alliance For Children Rights
Corey Helford Gallery
8522 Washington Blvd
Culver City, CA 90232
310.287.2340
Online Auction Information
Begins: February 10, 2007
Ends: February 17 at midnight
Link to Ebay Auction Site at:
coreyhelfordgallery.com
kids-alliance.org
Or go directly to Ebay's homepage and click on "Giving Works" under Categories

Click for more