A few blocks from the river in Philadelphia's "Old City" district, sitting amongst the over 50 galleries that exist within a ten block radius, Space 1026, 1pixel, 222gallery and Spector have been a great outlet for the newly emerging contemporary art movement. Bigs Kids/Little Kids is a book put out by a friend of mine that features interviews and works by a lot of great artists that have shown in these galleries. Click the flyer to check out the names involved, and definitely grab a copy of this book by visiting www.bigkidslittlekids.com.
– Shepard
STUDIO NUMBER ONE is beginning a series of promotional prints by designers from the studio. First to kick off the program is my co-worker and friend of over 20 years Jason Filipow. Jason and I have a mutual love of skateboarding, Bad Brains, Rauschenberg, Warhol, and ink applied to paper. Jason did the photography and design for the "Tools of the Trade" print and I threw my two cents in when asked. I wish I could take more credit for such a great design. I can at least take credit for hiring the guy. I think this is limited to 250 for sale on obeygiant.com. The edition size is 350. It is double signed… once by Jason, and once by the founder of Studio Number One… me.
-Shepard
I finally got a chance to watch the documentary film THE U.S. VS. JOHN LENNON the other night. I wanted to see it in the theater, but either I was not paying attention, or it did not get a wide release. I recommend renting it. There is a lot of great archival footage of John and Yoko, Bobby Seale, etc… as well as current interviews with people who were working for the FBI and the Nixon administration during the Vietnam war. I've always been a Lennon fan, but this film strengthened my admiration. One of the most moving quotes from the movie relates to the WAR IS OVER campaign of billboards and posters in 15 cities that Lennon personally financed. When Lennon was asked by an interviewer whether the campaign was costing him a lot, his response was "yes, it is costing a lot, but it's a lot less than the value of one human life".
-Shepard
I was checking out picturesonwalls.com (which you should too if you are not familiar) and I came across this image by a Japanese artist named Aiko. I'm not sure how long the image has been around, but for the record, I was not aware of it when I made my War by Numbers print. Since the two images came out close to the same time I'm pretty sure it is a coincidence. I really like Aiko's image and I think it is amazing how both images subvert their respective culture's versions of cute cliche. The back story with my image is this: I was asked to participate in a children's charity art show where each artist would be given a PAINT BY NUMBER image to work back into. The image I got was of a little girl with a flower.
-Shepard
I've been a fan of WK Interact's art since I first saw it on the streets of NY around 1993. We finally met in 2000. Since then, we have gone out bombing together in NY, LA, Berlin, and now Tokyo. He showed at our gallery Subliminal Projects in 2002. The two of us were asked recently by fashion designer and street art supporter Agnes B to show both individual and collaborative works in Tokyo and Paris. The Tokyo portion of the project has just completed. We put in a lot of work in the two galleries and on the streets over our week in Tokyo. Dan Flores helped out a ton as usual and my 22 month old daughter Vivienne has learned to put up stickers at the perfect height for dogs, midgets and babies to be indoctrinated into the posse. We hit about 20 big street spots and the bombing went pretty smoothly with the exception of one spot. There was a great tagged up building that seemed chill but was actually under video surveillance. I rocked an open spot on the building with an icon face and as I walked by the spot the next morning there was a little old lady with 2 cops standing in front of the partially scraped off face. That night I went back to re-do the spot (street ninja must REVENGE) and there was a sign in Japanese taped at the fire escape landing. My Japanese friend translated it as "Four men were videotaped doing graffiti on the premises last night. The police have been notified and we will catch you in the act next time" We stole the sign but decided not to risk arrest. I'm still waiting for more photos, so check back for updates.
-Shepard
click here to see the photos
As you may all know that every Tuesday at noon the website crashes… There is just so many of you coming to the website at that same exact time that it causes our website to over heat and blow a gasket. We have been totally aware of the problem and the frustration this can cause and have been in the process of fixing the problems for some time now. We thought we had the situation in order but it looks like we are going to have to make some more upgrades. We appreciate everybody's patience with the process and promise everything should be on the up and up shortly.
Tactics to create a climate of fear are nothing new… check out this LBJ Presidential ad from 1964. LBJ escalated U.S. military presence in Vietnam as soon as he took office. The irony is that as we worry about outside threats to our kids, we are creating a culture where it is fine to bomb kids from other countries like Vietnam or Iraq. The Iraqi civilian body count due to U.S. forces is between 56 and 62 thousand. See more at www.iraqbodycount.org/database. No wonder there isn't a lot of popular support in Iraq for the American versions of freedom and democracy. I feel just as bad for our troops who are being killed. Now we are mired in a civil war that is terrible for us and them. Try to keep in perspective that for every media image of a disabled U.S. veteran of the war in Iraq, there are 20 Iraqis who are in a similar or worse situation.
-Shepard
Check out this print that Shepard made as his reaction to the thought of being a part of a society that cultivates the justification of killing foreign innocent children, and people for that matter, to protect "our" idea of freedom and democracy. The print will be sold in 2 color ways with both color ways having editions of 300. These prints will be for sale on Tuesday, March 27th at noon. In addition, a portion of the profits from the sales of this print will be donated to the following organizations.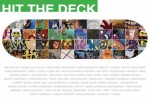 Opening Reception
Saturday, March 31, 2007
8:00pm – 11:00pm
Exhibition Dates
March 31, 2007 – April 21, 2007
Synthesis presents Hit The Deck, an original art showcase of artists from around the world using skateboard decks as the medium. Hit The Deck will exhibit at Subliminal Projects in Los Angeles, on March 31st until April
21st. Alan Weibel will curate Hit The Deck for Synthesis, bringing together clothing designers, graphic designers, graffiti writers and established fine artists for an opportunity to show and sell their original skateboard deck art to raise money for a world renowned AIDS, malaria and teburculosis treatment charity, the Global Fund.
Synthesis Magazine – www.synthesis.net
Draven Shoes – www.draven.com
Scion – www.scion.com
Dewars Blended Scotch Whisky – www.dewars.com
Swindle Magazine – www.swindlemagazine.com
Obey Giant Art – www.obeygiant.com
The Global Fund – www.theglobalfund.org
Click for more
OBEY is working with GlobalGrassroots.org through the HOPE Campaign to help empower individuals and bring awareness to the current crisis in Darfur. Since 2003 in Darfur, Sudan, an Arab government and their Janjaweed militias have been killing raping and displacing its black African citizens… thousands have been killed and millions have been displaced and are dependent on food aid. Shepard has designed a poster that will be released in the near future in which 100% of the proceeds will be donated to the HOPE Campaign to help stop this injustice.
Global Grassroots is a non-profit organization, founded in 2004, that offers training and seed funding to empower and support relief of poor, distressed and underprivileged women worldwide and help launch the sustainable social ideas of genocide survivors and refugees. The HOPE Campaign empowers individuals to take action on Darfur through music. For more information on further involvement and other projects aiding the crisis in Darfur, please visit www.globalgrassroots.org.
Swindle issue 10! We actually made it to double digits. More importantly, this issue kicks ass, my bi-ass aside. Our cover subject
Henry Rollins was the singer for Black Flag, one of my favorite hardcore bands. He's done a lot over the years… started has his own band, the Rollins Band, has his own radio and television shows, created his own publishing imprint and tours as a speaker and
lecturer with deep political knowledge. Rollins basically embodies all of the do it yourself creative and ethical principals that Swindle champions.
Issue 10 also features the SIRENS OF THE SURREAL, artists Camille Rose Garcia, Seonna Hong, Liz McGrath, and Adele Mildred who share their unique art and feminine perspective.
Remember when skateboarders wore pastel tee shirts and rocked Flock of Seagulls hair don'ts… I do because I was one of them. Well, we got together with the original members and some peripheral supporters of Powell Peralta's BONES BRIGADE to talk about their influence on skateboarding in the 80's and what they've been up to since then. You have all heard of Tony Hawk, but the entire BONES crew's contribution to skateboarding, art, music, video games, signature shoes, etc… demonstrates their enduring influence.
Additionally, we've got designer Philippe Starck , art, fashion, music , and pop novelty galore… if you aren't enticed yet you should move to Siberia, but write a story about your experience and submit it to Swindle. For more information visit swindlemagazine.com
-Shepard