Date: April 26, 2007 4:08:27 PM PDT
To: info@obeygiant.com
Subject: war profitteers and the ebay market
I'm sure you've thought of this but…. The issue concerning Shep's art turning up on Ebay at astronomical prices has discouraged me as a collector for some time now. I used to be able to go straight to Jerry down at Ducky's to view and possibly buy a print at leisure, but now, not so much. I think its good, in a way, Obey gaining a following, making some profit, supporting the company and its people, and then in turn sponsoring other good causes. I'm not writing here to attack that issue. However, the recent appearance of the Darfur print on Ebay is what really sickens me. Making profit on the suffering of others is called war profiteering and I hate to think fans of Obey would sink to the same levels as the Bush administration. Sorry Ebay sellers, but your guilty. Shepard is donating, your profiting, big difference. I propose to anyone selling these prints with a conscious to donate their profits back to Darfur or take them down from the market. In the event this does not happen, please join me in flagging these people who have not thought their actions through.
Response:
We were actually on our way to addressing this issue but we recently received this email from a supporter and we wanted to express our appreciation for the thoughts and suggestions presented here. Everyone at OBEY shares the frustration of our emailer and we all have very strong feelings about those people who recently purchased the HOPE FOR DARFUR print and have now turned to EBAY to sell it for a profit. To purchase to a print knowing our intentions and to consciously exploit the cause for a quick buck is exactly everything Shepard and OBEY are against. We are extremely disappointed and upset that there are "fans" of OBEY and Shepard's work that would go to such lengths. As a result we want announce that if you are identified as one of those people auctioning their print without contributing 100% of the profits to some charity aiding the crisis in DARFUR or do not withdraw their auction all together – YOU WILL BE NO LONGER ABLE TO PURCHASE ANYTHING FROM OBEY GIANT ART INDEFINITELY! This is not a joke and will be the only warning. We reserve the right to refuse service to anyone and will happily do so, especially in this case.
With that said, we would like thank all of the true supporters who have emailed and purchased the DARFUR print with the intention of raising awareness and aid to such a horrid situation. THANK YOU!
– OBEY GIANT ART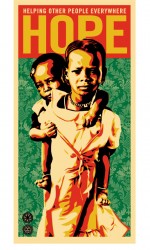 EVERYONE: PLEASE READ THIS! I was approached by Global Grassroots to do a graphic for their campaign to raise awareness about the genocide in Darfur. All I really knew was that the situation was similar to what was depicted in the movie "Hotel Rwanda". I took on the project as a good cause to get behind, but the gravity of the situation was not made real to me until I saw Brian Steidle's documentary "The Devil Came On Horseback". Brian is a former marine who was hired by the African Union to monitor the supposed cease fire in the Darfur region of Sudan. Brian witnessed and thoroughly documented the genocide being committed by the government arab militias against the the blacks in Darfur. Brian's film is heartbreaking both in seeing the genocide itself and the lack of action by the U.S. government after they have been presented with the situation and more than sufficient documentation. Only with political pressure can the Darfur genocide be brought to an end. PLEASE BUY A PRINT and support this cause. 100% of the money from this print goes to the HOPE campaign. I'm not even taking my print costs out. Watch the trailer, realize how good we have it in the U.S., and chip in. Thanks.
-Shepard
The HOPE Print will be released on Tuesday, 4/24/07 at 12pm PST.

Click for more
Click here to read this email regarding OBEY Clothing's ethics. Shepard's response is below.
Brittany,
My assistant forwarded me your email. Who is your Aunt? Please tell her hello. As far as your question goes, yes, some Obey clothing is made in China. 95% of the tee shirts are made and printed in the U.S. Many of the items like jackets, jeans, hats, etc.. are made in Asia. There are several reasons for this. First off though, I want to explain that my first inclination was to try to get all my goods produced in the US. both because I'd like jobs to stay in the U.S. and because I thought the quality of the goods would be higher. I also, ignorantly assumed that all Asian labor was "sweatshops". Clothing is an extremely competitive and low profit business. I won't bore you with all the details, but my main reason for making clothes is that I saw it as an affordable, utilitarian way to share my art. Much of my interest in art and graphics came from punk and skateboard t-shirts and I wanted to pass along my inspiration in the same way. I only want to make clothing if it is reasonably priced. Making some items in Asia is to save YOU money. When Obey was smaller we could not meet the minimums needed to produce our "cut and sew" items (an industry term for clothing built from the ground up) in Asia. Therefore we produced cut and sew here in the U.S. at very high prices, taking a loss or break even, and surprisingly the work was inferior quality. The U.S. prices are very high, and the quality is low. The actual workers are paid a low, often minimum wage as well. Many U.S. factories are "sweatshops". If you look at the price to quality ratio of Japanese versus American cars you get the picture. Unfortunately, people are used to paying relatively low prices for clothing and their assumption if I were charging 140 bucks for a pair of jeans or 120 for a sweatshirt would be that I was greedy and pocketing that money, not that the U.S. labor was double the cost and being passed to the consumer. Companies like Gap/ Old Navy that own their own factories and retail stores cut out the middle men and have a much higher profit margin. My decision was that the best solution was to research factories with good reputations for ethical working standards and use them. Now I can give the consumers the best quality product at the best price without moral compromise. If U.S. labor was only slightly more expensive, or slightly lower quality, I would produce the goods here to support the U.S. economy. However, that is not the case and I actually think that in some regards it is irresponsible to support U.S. businesses with an inferior work ethic and quality standard but higher prices. Americans want cheap goods, but they don't want jobs to leave the U.S. Unfortunately, it is one or the other. A company like Wal-Mart certainly has no better ethical standards compared to the cost of living than many Chinese businesses. The statement that all factories in Asia are sweatshops is incorrect and ignorant along the same lines as blanket statements like all Germans are Nazis, or Italians are perverts. Lastly, Obey clothing has created jobs in the U.S. for at least 20 awesome people who seem very happy doing what they are doing. We are all doing it for the creativity, not the money. I along with everyone at Obey clothing appreciate the support that has allowed us to live creatively. If money is your goal, a clothing business is dumb strategy. Affordable art is what I'm trying to provide.
-Shepard Fairey
A few blocks from the river in Philadelphia's "Old City" district, sitting amongst the over 50 galleries that exist within a ten block radius, Space 1026, 1pixel, 222gallery and Spector have been a great outlet for the newly emerging contemporary art movement. Bigs Kids/Little Kids is a book put out by a friend of mine that features interviews and works by a lot of great artists that have shown in these galleries. Click the flyer to check out the names involved, and definitely grab a copy of this book by visiting www.bigkidslittlekids.com.
– Shepard
STUDIO NUMBER ONE is beginning a series of promotional prints by designers from the studio. First to kick off the program is my co-worker and friend of over 20 years Jason Filipow. Jason and I have a mutual love of skateboarding, Bad Brains, Rauschenberg, Warhol, and ink applied to paper. Jason did the photography and design for the "Tools of the Trade" print and I threw my two cents in when asked. I wish I could take more credit for such a great design. I can at least take credit for hiring the guy. I think this is limited to 250 for sale on obeygiant.com. The edition size is 350. It is double signed… once by Jason, and once by the founder of Studio Number One… me.
-Shepard
I finally got a chance to watch the documentary film THE U.S. VS. JOHN LENNON the other night. I wanted to see it in the theater, but either I was not paying attention, or it did not get a wide release. I recommend renting it. There is a lot of great archival footage of John and Yoko, Bobby Seale, etc… as well as current interviews with people who were working for the FBI and the Nixon administration during the Vietnam war. I've always been a Lennon fan, but this film strengthened my admiration. One of the most moving quotes from the movie relates to the WAR IS OVER campaign of billboards and posters in 15 cities that Lennon personally financed. When Lennon was asked by an interviewer whether the campaign was costing him a lot, his response was "yes, it is costing a lot, but it's a lot less than the value of one human life".
-Shepard
I was checking out picturesonwalls.com (which you should too if you are not familiar) and I came across this image by a Japanese artist named Aiko. I'm not sure how long the image has been around, but for the record, I was not aware of it when I made my War by Numbers print. Since the two images came out close to the same time I'm pretty sure it is a coincidence. I really like Aiko's image and I think it is amazing how both images subvert their respective culture's versions of cute cliche. The back story with my image is this: I was asked to participate in a children's charity art show where each artist would be given a PAINT BY NUMBER image to work back into. The image I got was of a little girl with a flower.
-Shepard
I've been a fan of WK Interact's art since I first saw it on the streets of NY around 1993. We finally met in 2000. Since then, we have gone out bombing together in NY, LA, Berlin, and now Tokyo. He showed at our gallery Subliminal Projects in 2002. The two of us were asked recently by fashion designer and street art supporter Agnes B to show both individual and collaborative works in Tokyo and Paris. The Tokyo portion of the project has just completed. We put in a lot of work in the two galleries and on the streets over our week in Tokyo. Dan Flores helped out a ton as usual and my 22 month old daughter Vivienne has learned to put up stickers at the perfect height for dogs, midgets and babies to be indoctrinated into the posse. We hit about 20 big street spots and the bombing went pretty smoothly with the exception of one spot. There was a great tagged up building that seemed chill but was actually under video surveillance. I rocked an open spot on the building with an icon face and as I walked by the spot the next morning there was a little old lady with 2 cops standing in front of the partially scraped off face. That night I went back to re-do the spot (street ninja must REVENGE) and there was a sign in Japanese taped at the fire escape landing. My Japanese friend translated it as "Four men were videotaped doing graffiti on the premises last night. The police have been notified and we will catch you in the act next time" We stole the sign but decided not to risk arrest. I'm still waiting for more photos, so check back for updates.
-Shepard
click here to see the photos
As you may all know that every Tuesday at noon the website crashes… There is just so many of you coming to the website at that same exact time that it causes our website to over heat and blow a gasket. We have been totally aware of the problem and the frustration this can cause and have been in the process of fixing the problems for some time now. We thought we had the situation in order but it looks like we are going to have to make some more upgrades. We appreciate everybody's patience with the process and promise everything should be on the up and up shortly.
Tactics to create a climate of fear are nothing new… check out this LBJ Presidential ad from 1964. LBJ escalated U.S. military presence in Vietnam as soon as he took office. The irony is that as we worry about outside threats to our kids, we are creating a culture where it is fine to bomb kids from other countries like Vietnam or Iraq. The Iraqi civilian body count due to U.S. forces is between 56 and 62 thousand. See more at www.iraqbodycount.org/database. No wonder there isn't a lot of popular support in Iraq for the American versions of freedom and democracy. I feel just as bad for our troops who are being killed. Now we are mired in a civil war that is terrible for us and them. Try to keep in perspective that for every media image of a disabled U.S. veteran of the war in Iraq, there are 20 Iraqis who are in a similar or worse situation.
-Shepard
Check out this print that Shepard made as his reaction to the thought of being a part of a society that cultivates the justification of killing foreign innocent children, and people for that matter, to protect "our" idea of freedom and democracy. The print will be sold in 2 color ways with both color ways having editions of 300. These prints will be for sale on Tuesday, March 27th at noon. In addition, a portion of the profits from the sales of this print will be donated to the following organizations.